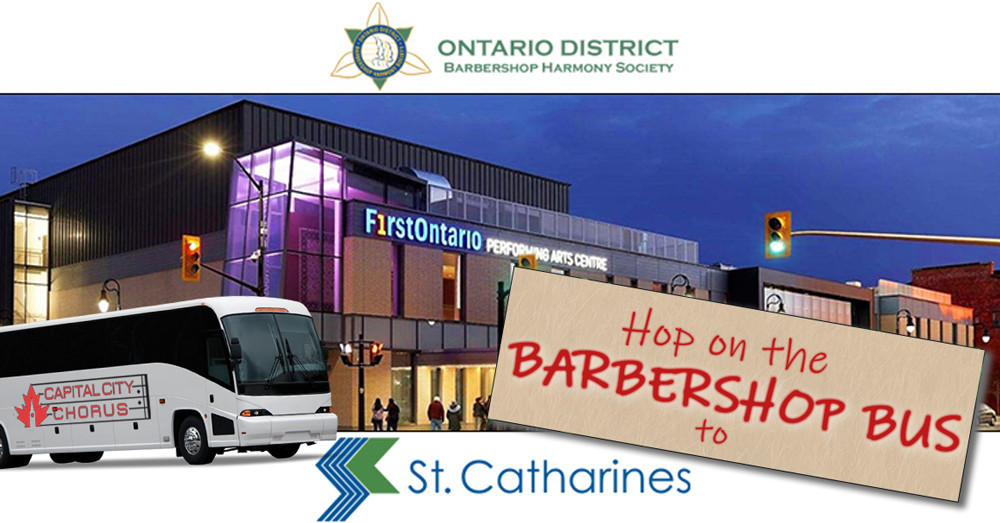 Hop on the Barbershop Bus to Fall Convention!
It's a GO! We've met minimum number threshold. SEATS ARE STILL AVAILABLE!
Save the hassle and stress of the 401 through Toronto and enjoy yourself late into the night at the Saturday Afterglow without worrying about driving in the morning. Take the Barbershop Bus to the Ontario District Dall Convention instead!
On the morning of Friday, October 21, the bus will leave from Ottawa and make stops around Kingston, Belleville, and other places en route to St. Catharines. On Sunday morning after the Convention (Oct 23), the bus will drive you back to where you were picked up from.
Book by October 19!*
Book your seat today, everyone welcome!
$120 per passenger
Call Richard Frenette at 514-803-1391 with any questions.
Notes:
If there are enough bookings a larger coach seating up to 56 will be used
* Bookings after October 19 and walk-ons on the day-of are subject to availability.
One-way trip may be available for $80, subject to availability
Fall Convention details available at http://ontariosings.com/fconvention/home