Sing on our 2018 Christmas Show!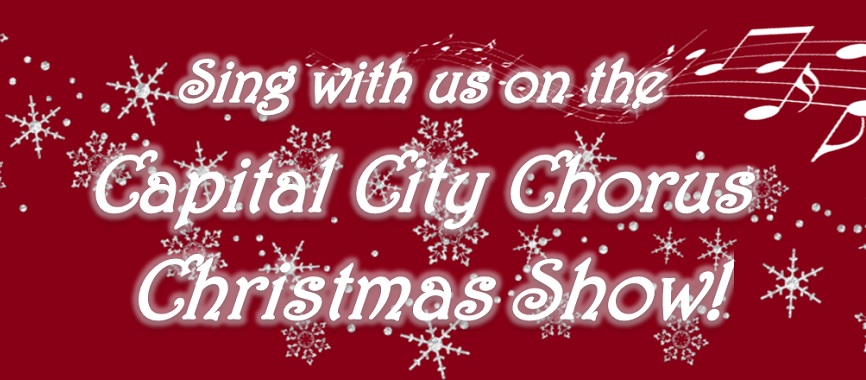 NOTE: LOCATION CHANGE on November 5 - see below
Calling all Men! If you, or someone you know, are interested in rehearsing and performing with us, please consider this your personal invitation to sing with us on our annual Christmas Show! We rehearse every Monday at the Ron Kolbus Lakeside Centre. We will provide sheet music and learning tracks to download, great instruction and direction, and a lot of fun! All you have to do is show up and be ready to sing!


Sign up today at https://goo.gl/forms/cJcLMnieDhqkg5pA2.
What you get:
Vocal and musical instruction
All music in PDF format along with learning tracks
The chance to sing with over 60 men
Fellowship and refreshments and fun!
What we expect:
We expect that you will have a really great time!
We expect you to learn the music as best as you can
We expect you to come to the majority of the rehearsals and all shows if possible.
There are no other commitments! And it's FREE!
Rehearsal Schedule
Visit the Events page for updates on specific rehearsals.
NOTE: November 5 - Rehearsal will be help at the Woodroffe United Church, 207 Woodroffe Ave, Ottawa
Mondays October 15 to December 10

Shows:

Friday, December 14, 7:30 pm
Saturday Matinee, December 15, 2:00 pm
Saturday Evening, December 15, 7:30 pm
Dear Ladies...
To all the women who have sung with us in the past or were hoping to this year we, unfortunately, again will not have a Women's Guest Chorus as part of our Christmas program this year. However, if you would still like to be involved with our Show, we have many volunteer opportunities. Please contact us for more details. Of course, we would also be happy to have you in our audience and hear your voices in the singalong parts of the Show! Thank you for your continued interest in the Capital City Chorus.